Expand Your Coverage
Frazer, Ltd. has been in the driver's seat of generator-powered EMS modules for decades. We've been moving the EMS industry forward by building the best product at the most competitive price, providing our customers with the best service around, and doing it all in the safest way possible. And now, we're applying our years of experience to a new healthcare vehicle that redefines the concept of the house call.
Enter Frazer's Mobile Clinic
Frazer's Mobile Clinic goes beyond stuffed emergency rooms and busy hospital hallways to deliver a universally configurable space for healthcare. This unit extends the reach of healthcare providers to schools, streets, parking lots, businesses, nursing homes, and all types of communities. Wherever care is needed, the Mobile Clinic is there.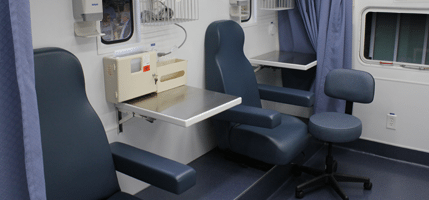 Applications
Our Mobile Clinic offers customizable features and applications that fit your needs.
Services possible with our Mobile Clinic include: immunization, health evaluation, blood draw, shots, and more. We build the Mobile Clinic on a platform open to massive configurability. It can function as a mobile clinic, a broadcast command vehicle, a disaster relief unit, or even a food truck.
Bottom line: it gives you the power to do more.
Features
As with our other vehicles, the Mobile Clinic is equipped with an independent generator. So you can power your devices without hassle. And we can build it on a chassis of your choosing, ranging from front-end to cabovers.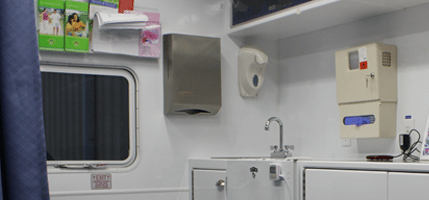 Features available with our Mobile Clinic include:
Refrigerator
Sanitary Stations
Hot & Cold Running Water
120V AC Electrical Outlets
LED Interior Lighting
Stainless Steel Countertops
Powder Coated Aluminum Cabinets
Ultra Strong Aluminum Frame
Hospital Grade Vinyl Flooring
Blood Draw Stations
Waiting Area
Privacy Curtains
Interior & Exterior Storage Cabinets
Workspace: Rolling Chairs, Drawers, Filing Cabinets
Brochure Holders
Pulse & Temperature Monitors
Slide Out Trays
Two ways of FMVSS compliant egress: a side door and a back window
Sharks with laser beams
& Much More!