Chassis Features
LiquidSpringTM suspension system for a smoother ride.
Four-wheel drive options for driving in harsh conditions.
Automatic leveling system an option to enable consistent scanner operations in uneven terrain.
Exterior Features
Remountable module saves time and money.
Ultra strong aluminum alloy base frame.
Massive compartment storage options for lots of equipment.
100% LED efficient emergency lighting.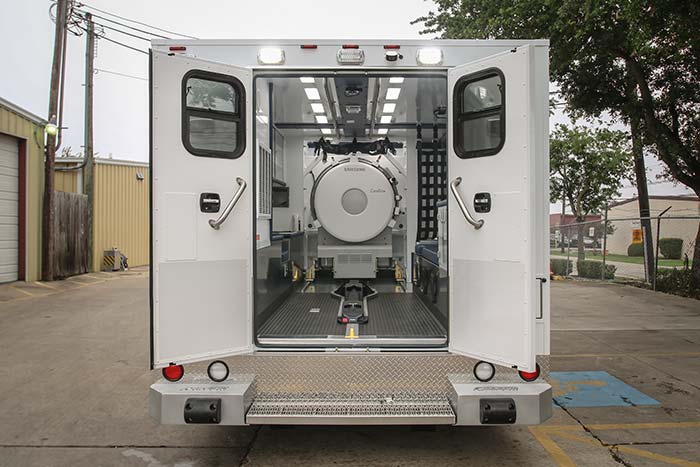 Interior Features
Ergonomic interior layout with a focus on efficiency and comfort.
Safety features including 6 point harness options.
120 VAC air conditioner meets 2010 EPA requirements and maintains a 35° temperature differential to the outdoor climate.
Wide aisle space for better maneuverability.
Stryker Power-PROTM powered ambulance cot enabling quick, ergonomic-safe patient transport.
Stryker Performance-LOADTM cot fastener system meets dynamic crash test standards for maximized occupant safety.
Technology
Designed to host a wide variety of telemedicine platforms.
Enough power to accommodate the latest advances in medical equipment.
Designed to support other imaging systems with modifications to adapt to specific equipment needs.
Onboard CT Scanner
CereTom® portable CT scanner by NeuroLogica, a subsidiary of Samsung Electronics Co., Ltd.
CT Angiography (CTA) & CT Perfusion (CTP) capable.
A precision tracking system and laser levelled floor accurately guides the CT scanner during a scan.
Generator & Electrical Features
120-volt generator powered primary electrical system independant of the chassis alternator/battery system.
Intelligent fail-safe 12-volt DC power system used in the event of a primary generator failure.