UV-C Disinfection Lamp for Emergency Vehicles
Emergency vehicles are designed to help the sick and injured, but now a specially designed light for disinfecting EMS vehicles has flipping the switch on that idea and helping prevent sickness before it starts!
UV-C Disinfection Lamp Kills Germs to Prevent Colds and the Flu
The ADU-136 UV-C Air and Surface Disinfection Lamp, made by EvergreenUV, uses the "c" wavelength of the sun to kill germs inside an EMS vehicle to prevent the spread of infectious diseases and viruses like colds and the flu. The product is sold by EA Medical, LLC and can be easily mounted to the ceiling of an EMS module.
UV-C Disinfecting Lamps Installed in Fleet of Frazer EMS Vehicles
Frazer recently installed UV-C disinfection lamps in 18 EMS vehicles for the San Antonio Fire Department . Fire Engineer William Shannon Weeks says the department was looking for a better way to decontaminate emergency vehicles from not only everyday viruses, but viruses more serious like Ebola.
In 2014, three people were diagnosed with Ebola in Dallas, Texas. The original patient and a nurse were both transported by emergency vehicle. A CDC report found that one of the Dallas EMS vehicles transported 10 more patients before it was completely cleaned and disinfected. Weeks says, "Our administration really looked at the UV light as able to get into the different cracks and crevices as well as something we can reliably use throughout our units."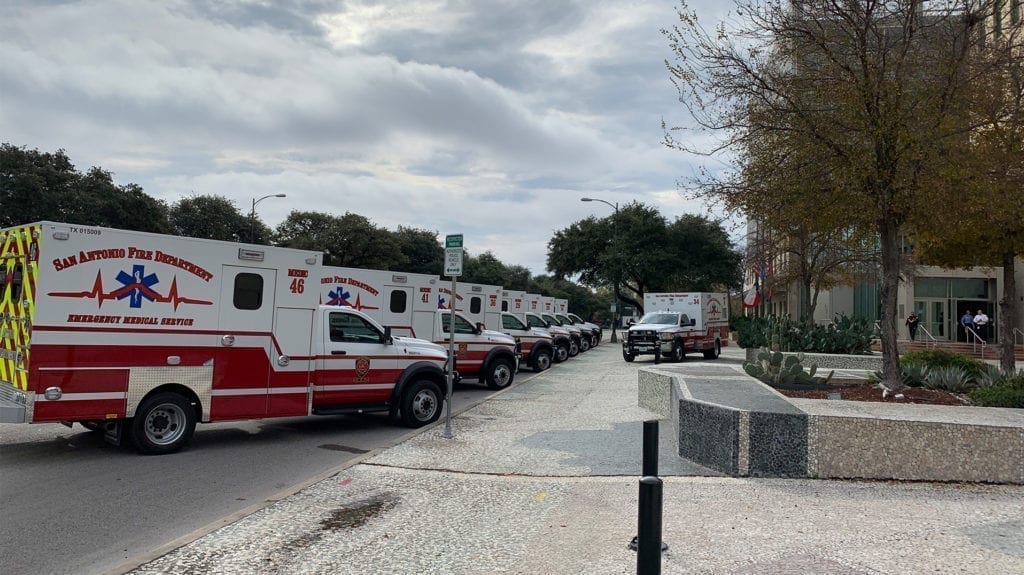 UV-C Light Scientifically Proven to Reduce Healthcare Acquired Infections
Neal Zeid with EA Medical, LLC says UV-C is a natural disinfection that is scientifically proven to reduce healthcare acquired infections and kill pathogens including C.diff and MRSA. "We can reduce healthcare acquired infections from spreading from 32 to 37-percent when it compliments the current cleaning regimen that they (EMS crews) do." The UV-C disinfection lamp is EPA approved. Zeid adds that "anywhere the light can bounce, it can disinfect. This includes shadowed areas as well." The UV-C light disrupts the DNA of microorganisms destroying their ability to reproduce.
However, the UV-C light does not destroy or deteriorate supplies, equipment or medications.
Weeks, who works with the San Antonio Fire Department, finds this highly beneficial. "You don't have to worry about medications… the seats or the equipment being broken down." He says another benefit is that the UV-C disinfection system is "easy to use".
How the UV-C Decontamination System Works:
Crews close all doors leading into the EMS module.

They open the door of the unit's electrical compartment.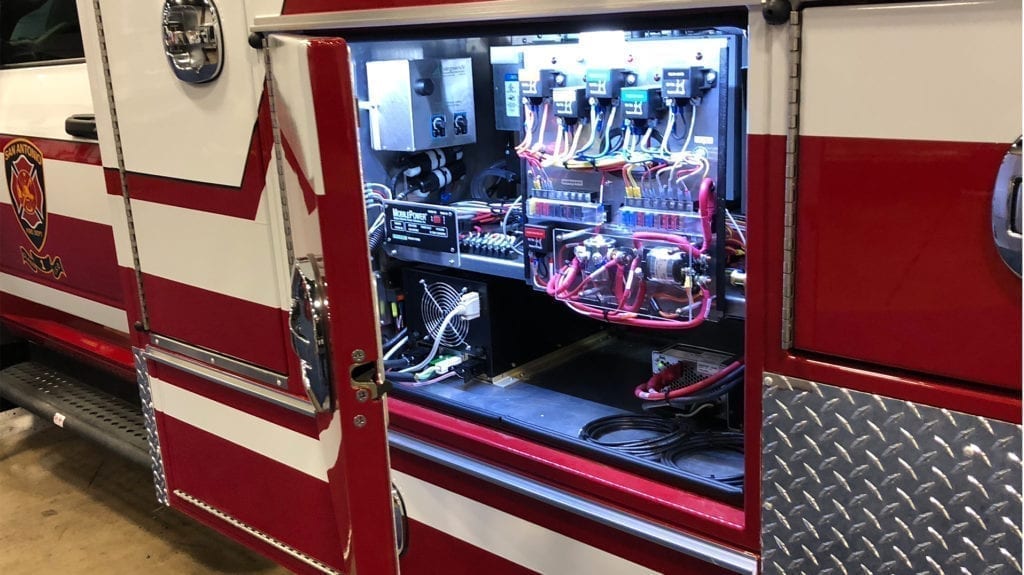 Crews press a black button on an EvergreenUV control box mounted inside.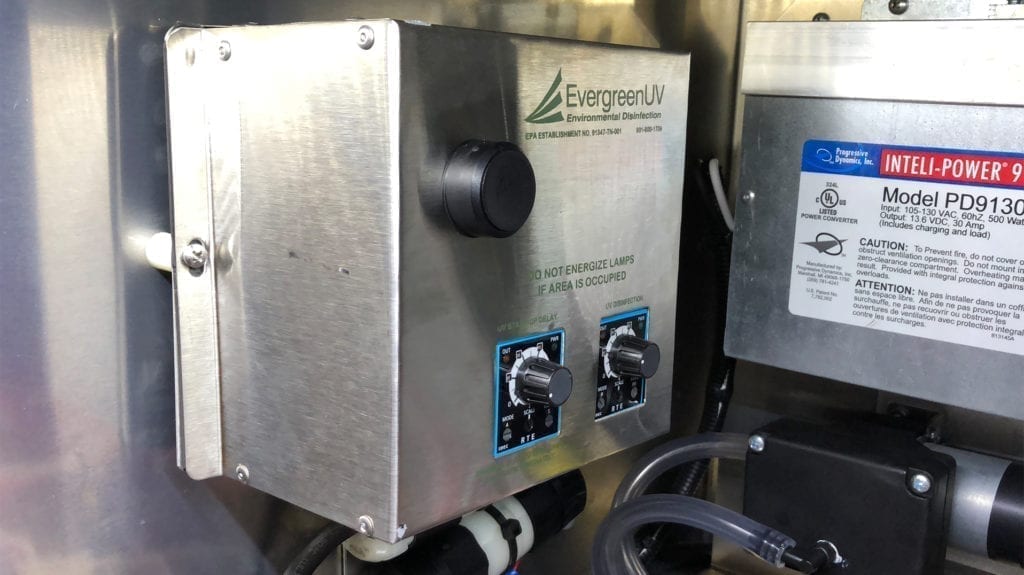 The UV-C disinfection lamp turns on, casting a blue color.
Disinfection of the EMS module begins!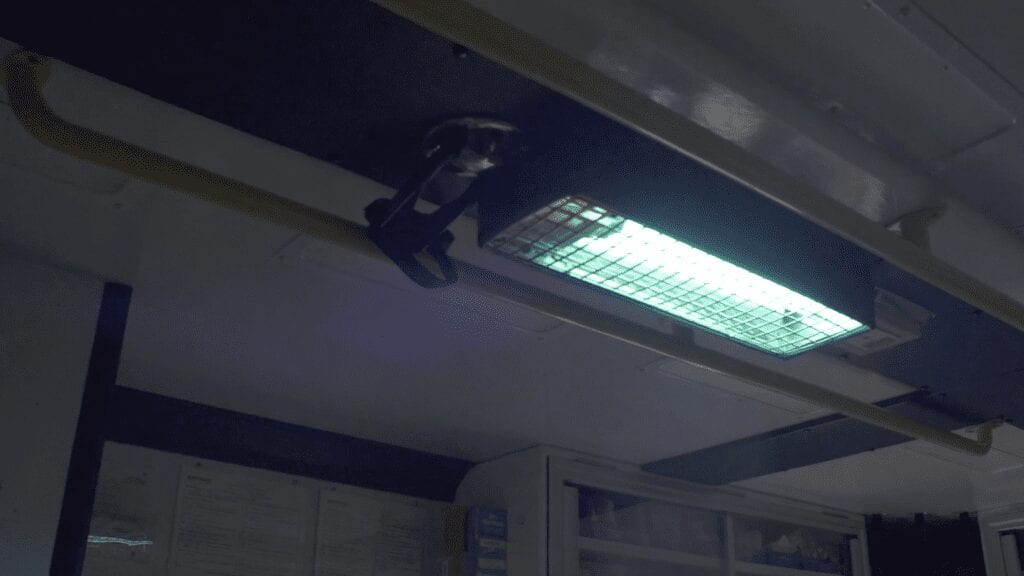 Decontamination takes about 15-20 minutes. The best part? It's all set on a timer. If the crew needs to leave for a call, the decontamination process can be easily stopped by opening a door and restarted later. The UV-C bulbs have a 9,000 hour germination lamp life. The decontamination process can be done weekly, daily, or even after every patient call.
Similar UV-C Decontamination Systems Found in Hospitals
Many hospitals have added UV-C disinfection machines and systems to operating rooms and to other key areas of their hospital following new legislation after the Ebola scare.
Want More Information?
Neal Zeid from EA Medical, LLC talks in depth about the technology behind the UV-C disinfection lamp and how it works to stop the spread of diseases and illnesses.
LEARN about the features of EvergreenUV's ADU-136 UV-C Air and Surface Disinfection Lamp.