An Ace in the Hole
To celebrate our annual pilgrimage to the Texas State EMS Conference, we proudly announce a first-of-its-kind EMS vehicle combining the legendary durability and reliability of Frazer's generator powered design along with the technological sophistication provided by the robust ACETECH multiplexing system.
This demo unit represents multiple years of research and development trying to achieve the delicate balance between features we've built our reputation on and features our customers have been loudly asking for in ever greater numbers.
Finding The Right Partner
If you are one of our longtime customers, you know Frazer doesn't take big steps like this without performing our due diligence. In the course of responding to this call for a more modern approach, we looked at building a system in-house, and we looked at a number of available options. With ACETECH we found a single-source integrated system where we'll know exactly who to call when a customer needs support – or less politely, which throat to choke.
ACETECH has definitely acted as a partner in this process, and we're excited to offer something we feel meets our extremely high standards for performance on your vehicles. Their technical teams have worked hand in hand with our engineering and IT departments to ensure this hybrid system gives you the best of both worlds – Frazer Generator Power to satisfy all your electrical demands, and AceTech's fully integrated performance monitoring and control system to make it all sing.
Why ACETECH? Why Now?
With over 65,000 product installations worldwide, we feel ACETECH's proven track record and success in Europe and the Middle East would translate well as they look to move into the US EMS market. Once upon a time some of us here at Frazer used to dream about a big room full of computer screens showing us where all of our vehicles were on a map and sending real time information regarding performance or service issues. The AceTech AVI system makes that dream an achievable reality.
This demo represents over a year's worth of working together with ACETECH's engineering and technical teams to craft a solution that works with our existing features. And while we don't expect this system will be for everyone, we are acutely aware that many of you very much want to take advantage of the feature sets this move allows to happen.
Awesomely Awesome ACETECH Features!
One of our favorite aspects of the ACETECH product suite centers around the ability to use their different modules either in whole or in part. This particular demo includes all but one module, the RFID asset tracking piece, but all modules can be added to a new build (and , excepting the ECU module, likely an existing vehicle – though with different complexity levels) as individual components.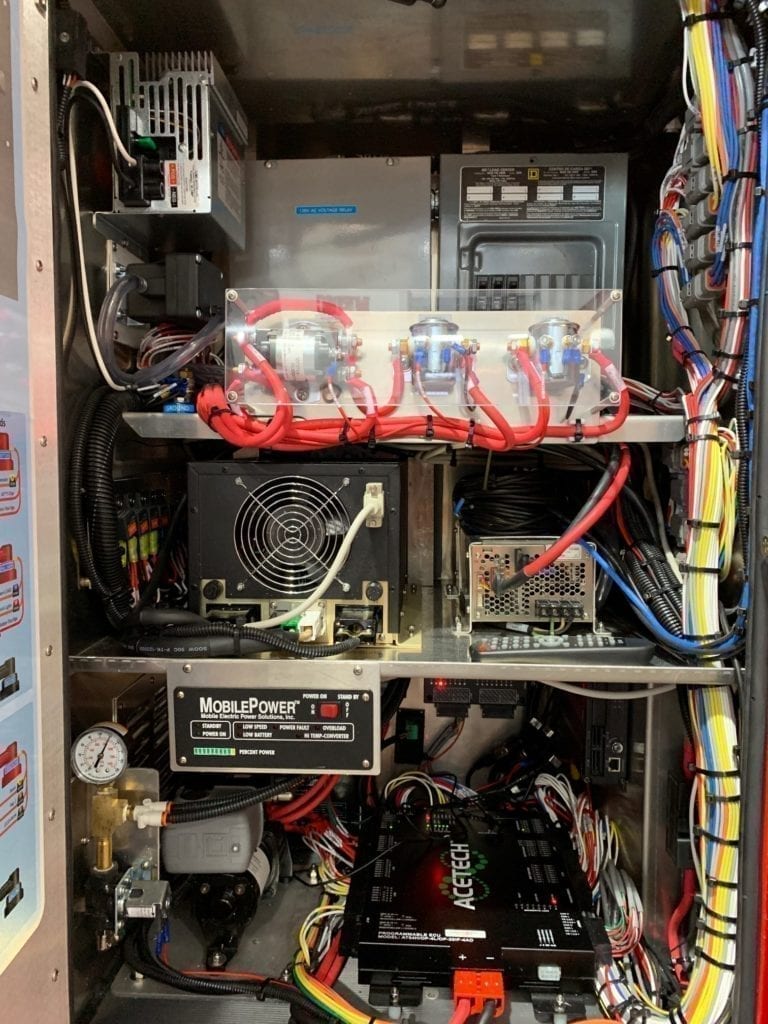 AVI
The Advance Vehicle Informatics module (AVI) allows for driver monitoring, feedback and coaching. As Road Safety exited the market last year, AVI represents an excellent replacement and can be configured to act as a one to one replacement, all the way down to the feedback sounds. ACETECH's AWS powered servers capture and permanently save all driver data on all vehicles equipped with AVI.
What this means for fleet managers, department directors, and training personnel is a massive data set providing real time remote monitoring coupled with a robust web-based reporting interface to evaluate historical trends with vehicle systems performance, driver actions, fuel consumption and carbon emissions (with the EcoRun module), all within granular, role-based customer portal. A service using this module could even grant access to their preferred vehicle service provider to allow tailored access to vehicle information for planning and reacting to any issues that might arise.
ACETECH ECU and iNCOMMAND
The solid state Electronic Control Unit acts as the brains of the module functions, and in conjunction with the iNCOMMAND touch screen control computer gives medics full control of their working environment. Emergency light flash patterns, interior light controls, door open indicators, and vehicle camera monitoring are just some of the control elements available with this system.
And because the iNCOMMAND touchpad is actually a Windows PC, it can even be configured to function with your MDT. Plus, once your vehicle control schema has been configured, the underlying code can be copied to the ECU of any new vehicle to have an exact match for your fleet. Used in conjunction with the AVI system, the system allows not only for remote monitoring, but also remote diagnostics, troubleshooting, and repairs. ACETECH's presence in both the US and Europe expands available support times with the manufacturer in addition to the availability you've come to expect from Frazer.
EcoRun
The ACETECH EcoRun module works with your chassis to monitor engine usage and power needs. The module features configurable parameters to turn the truck off and on as needed. For services looking to reduce fuel consumption or to reduce carbon emissions, this sort of system gives fleet managers and directors both the control and the resulting data to show their communities real savings and impact.
And while there are other solutions in the market which address the same issues, Frazer feels the integrated nature of the ACETECH product line gives both builder and end user a level of confidence that there won't be any finger pointing should a performance issue arise.
AVA
Adding the AVA module provides real time, configurable voice feedback. Depending on your requirements this module can let medics know anything from the status of emergency light activation to door open status to fuel levels and beyond. In a world with an ever increasing amount of stimuli, AVA offers the security of an extra set of "eyes" to keep your crews informed and aware of potential hazards in their working evironment.
RFID Tracsense
Let the magic of near-field communications take one more potential blind spot off your plate. The ACETECH Tracsense module keeps tabs on any tagged asset on your vehicle. Used in conjunction with the AVA module and the iNCOMMAND control screen, you could have your vehicle alert crews to shortages in critical meds or supplies before responding to a call, or let them know they've accidentally left a scene without some piece of equipment they will soon miss.
A Holistic Approach
Frazer is extremely excited to unveil this project for our customers at the Texas EMS show this weekend and can't wait to hear your feedback. We strive to give you the absolute best set of features with the least amount of potential headaches so you can focus on the task at hand, caring for your communities. We feel the holistic approach and massive feature set provided by the ACETECH system represents a huge step forward in meeting the future needs of our industry.
You can stop by our booth in Fort Worth to see us and speak to any of our Sales Team and to put your hands on our new baby. ACETECH team members will also be on hand for product demos, to provide real savings data, and to answer any other questions you might have about their system. And if you're not able to visit us at the show, please call 888-372-9371 to inquire about a site visit or to learn more about this exciting project. Or you can click here to watch a video.
Finally, in the upcoming holiday spirit, we are, as always, so thankful for all the wonderful people we've met over the years and for the selfless work you do every day tending to the people you serve. From our family to yours, Happy Thanksgiving!