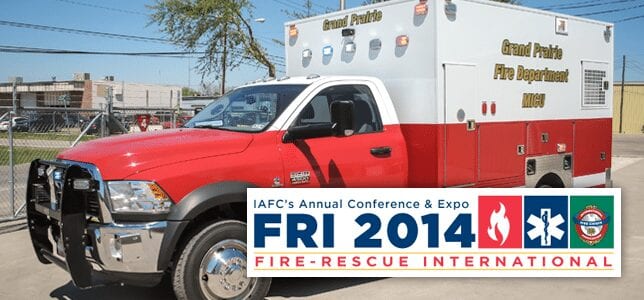 We can't wait to share what Frazer has in store for you with FRI2014 only two weeks away! The IAFC's Fire Rescue International Conference is in Dallas this year, with the exhibit from August 15-16th. We'll be showing off one of our terrific 12-foot generator powered EMS vehicles just recently completed for the Grand Prairie Fire Department.
We're sure to see both new and old faces at FRI, where many of the world's leading first response experts come to learn, network and develop their skills. We knew we couldn't miss this opportunity to connect with fire chiefs from around the country and around the world. While you're there, let us show you why generator power is superior and why we're the best at what we do. Our standard 5.5 kW on-board generator gives you more power than you thought possible. Plus, our vehicles come already equipped with tons of other features you won't find standard anywhere else, including: all-LED interior lighting, all LED emergency lighting, all stainless steel interior cladding, all-aluminum cabinets, horizontal O2 storage, an exclusive, custom-built 120VAC air conditioning unit, and so much more.
We will be live-tweeting throughout exhibition weekend, so be sure to follow @frazerbilt for updates! Along with the other 600+ exhibitors showcasing anything you can think of fire-rescue related, you'll be able to see us on Friday from 10:00-5:00 and Saturday from 9:00-2:00 at the Kay Bailey Hutchinson Convention Center. It's sure to be a blast! We'll be in Booth 3743. See you there!