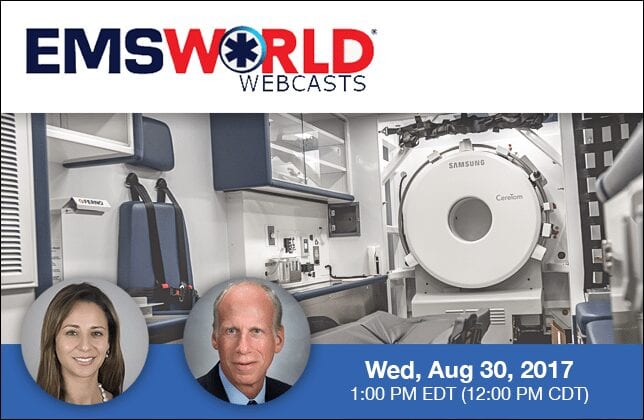 Signup today for our Live Webcast – Bringing the Hospital to the Patient: Why and How to Implement a Mobile Stroke Unit in your Community.
Stroke is one of the true time-sensitive enemies EMS faces. The only FDA-approved treatment for ischemic strokes (87% of all strokes), tissue plasminogen activator (tPA), must be given within three hours of symptom onset, yet only 3%-8.5% of U.S. patients who are eligible for tPA get it. Delays can occur in symptom recognition and calling 9-1-1 with prolonged scene and ED times and in the hospital getting scanned and treated.
Could taking treatment to these patients, rather than these patients to treatment, produce better outcomes?
James C. Grotta, MD
Director of Stroke Research, Clinical Institute for Research and Innovation, Memorial Hermann-Texas Medical Center
Director, Mobile Stroke Unit Consortium
Vascular neurologist, Memorial Hermann Medical Group
Manager, Grotta Stroke Ventures LLC.
James Grotta, MD, was instrumental in bringing that first MSU to the streets of Houston. Formerly chair of neurology and director of the University of Texas Medical School's stroke program, Grotta has since 2013 led the regional mobile stroke unit consortium from Memorial Hermann Hospital. Last year he received a $5 million award from the Patient Centered Outcomes Research Institute to conduct a multicenter comparative effectiveness study of a mobile stroke unit vs. standard stroke management.
May Nour, MD, PhD
Assistant Professor, University of California, Los Angeles
Interventional and Vascular Neurologist
Department of Neurology, UCLA Comprehensive Stroke Center
Director, UCLA Mobile Stroke Rescue Program
Department of Radiology, Division of Interventional Neuroradiology
May Nour, MD, PhD, is an assistant professor at UCLA, where she directs the mobile stroke rescue program at the UCLA Comprehensive Stroke Center and is a member of the Department of Radiology's Interventional Neuroradiology Division. A vascular and interventional neurologist, she has led a team over the last year in developing the build and infrastructure for the UCLA mobile stroke program, the first on the west coast. This has included aspects such as clinical development, telemedicine customization, electronic charting, legislative advocacy and fundraising.
Among the key areas Grotta and Nour will address are:
How do mobile stroke units work?
How can they be integrated within different types of systems?
How can they function cost-effectively?
What is optimal staffing?
How does the telemedicine component work?