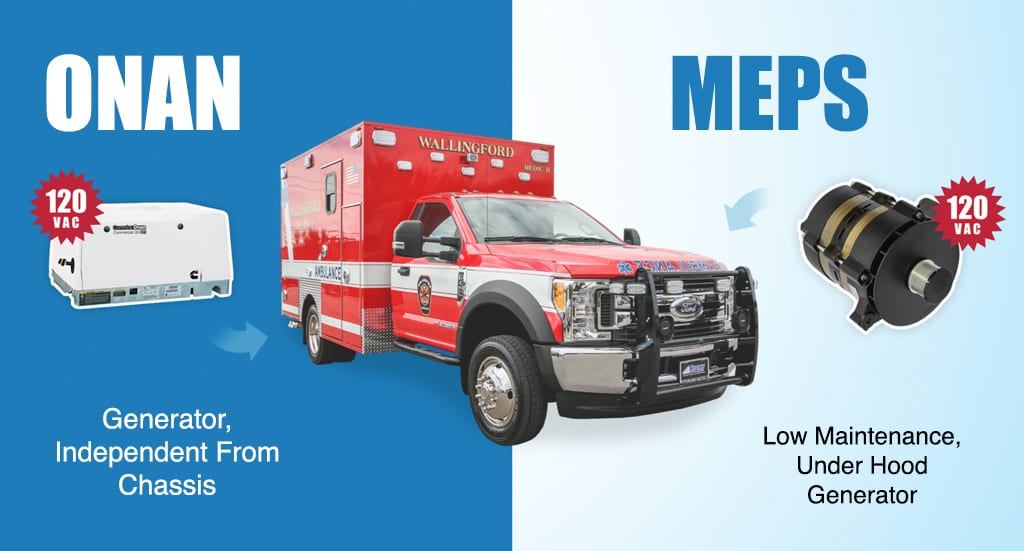 Frazer offers two 120 VAC power systems for your Emergency Medical Services (EMS) Vehicle to choose from: the Cummins Onan Gasoline Engine Generator or the MEPS (Mobile Electronics Power Solutions) Generator.
Determining which power option is the best choice for your agency ultimately depends upon your needs. We've compiled a list of the TOP 12 Things to Consider (per our customers):
Power System Options:
TOP 12 Things to Consider

Onan Gas

MEPS

1
Upfront Cost
$11,000
$16,500
2
Spare Generator Cost
$5,350
$4,350
3
Annual Estimated Fuel Cost
$2,500
Negligible
4
Annual Preventative Maintenance Cost
$1,000
$250
5
Average Annual Cost of Ownership (4 yr)
$7,125
$4,625
6
Preventative Maintenance Intervals
@150 hr
up to 2,500 hrs
7
Annual Preventative Maintenance Downtime
~8 hours
4 hours or less
8
Independent from Chassis Engine
Yes
No
9
Frazer 12 VDC Fail-safe Backup
Yes
Yes
10
Installation Space
Large
Small
11
Average Lifespan
7-10k hrs
Up to 16k hrs
12
Warranty
2 yrs/2000 hrs
1 yr
Still Have Questions?
Still have questions? Contact us today at (888) FRAZER1.
More Video
Check out these videos pulled from our archives that talk more about Frazer's two EMS vehicle power options.