Follow the Build of a Houston Fire Department EMS Vehicle from Start to Finish!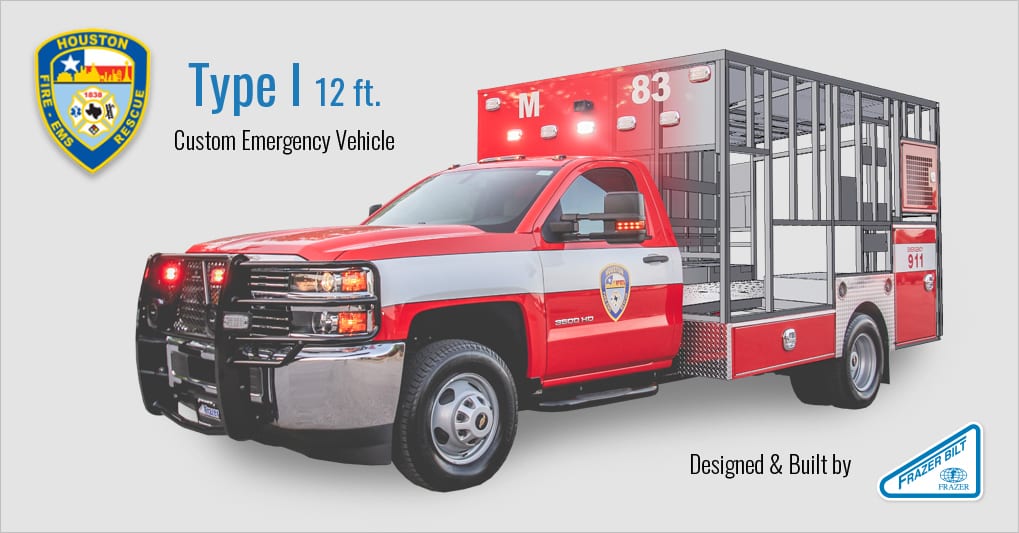 Ever wonder how a custom emergency vehicle is made? We're going to show you! Throughout the next 35-40 days, we're highlighting a TYPE I 12ft EMS Vehicle that we're building for the Houston Fire Department (HFD).
The Houston Fire Department holds a special place in Frazer's family of customers. HFD helped design and test Frazer's first generator-powered EMS Prototype in 1982. Since then, Frazer has built over 150 EMS vehicles for the department. We're building a batch of 15 more EMS vehicles for HFD over the next couple of months.
We're going to show you how one of these HFD units is built from start to finish! Bookmark this page and check it often to see pictures tracking the progress of the unit during the manufacturing process.
Day 5: Sections of the Module Frame Undergo a Quality Control Inspection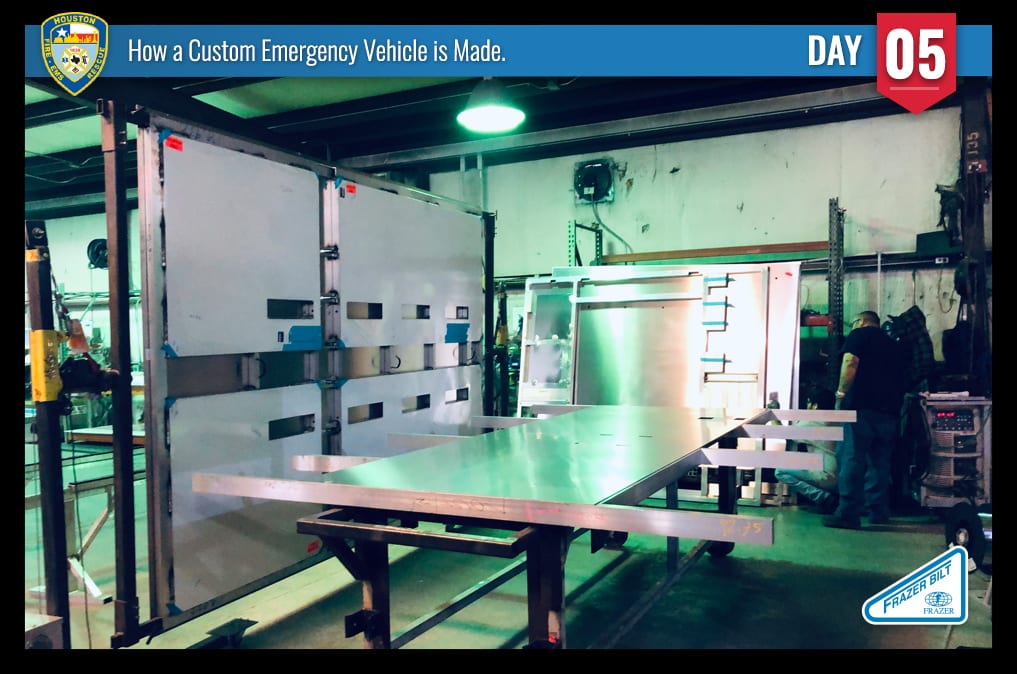 All six sections of the module frame undergo a Quality Control Inspection that includes checking bolts for the proper torque, layout of the wall insulation, and proper skin adhesion to the frame. The module frame is now ready for assembly.
Day 4: Skinning and Insulation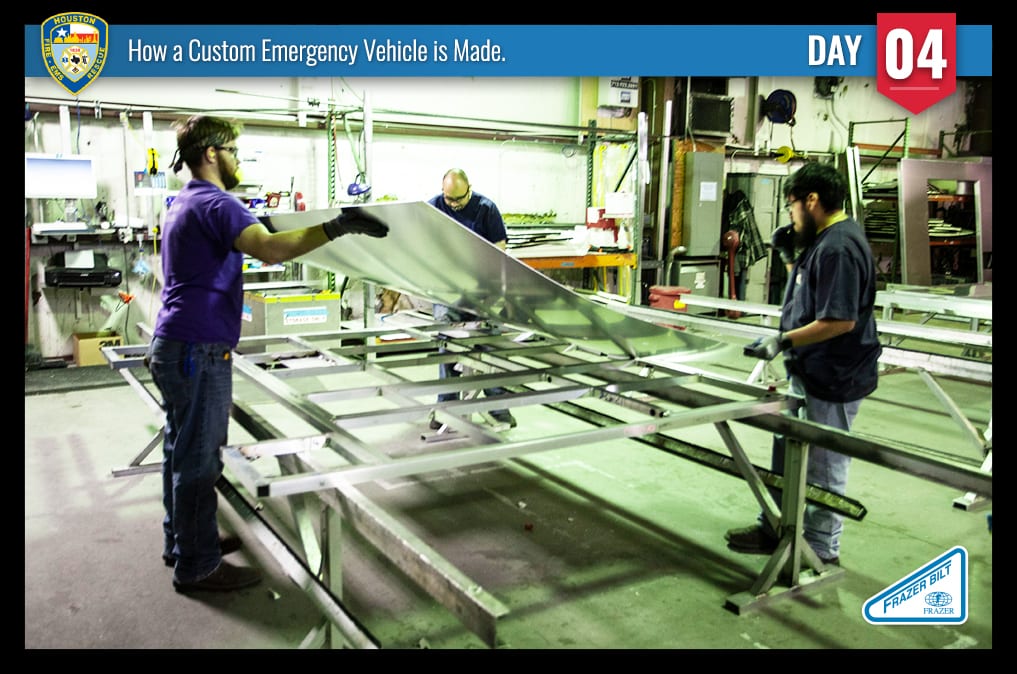 The crew now brings each section of the frame to the Skinning Area where it gets deburred, smoothing out any rough edges. Team members also cut notches to allow for wiring installation and bond the aluminum skin to the frame. Crews flip each section over and install precut insulation. Fiberglass Reinforced Plastic (FRP) panels are attached to the ceiling section. The center raceway is left open for easy installation of electrical wiring and equipment. Quality Control Team Members are then called in to inspect everything.
What's next? Each section of the frame moves down the production line to the Box Assembly Area.
Day 3: Framing and Welding Finish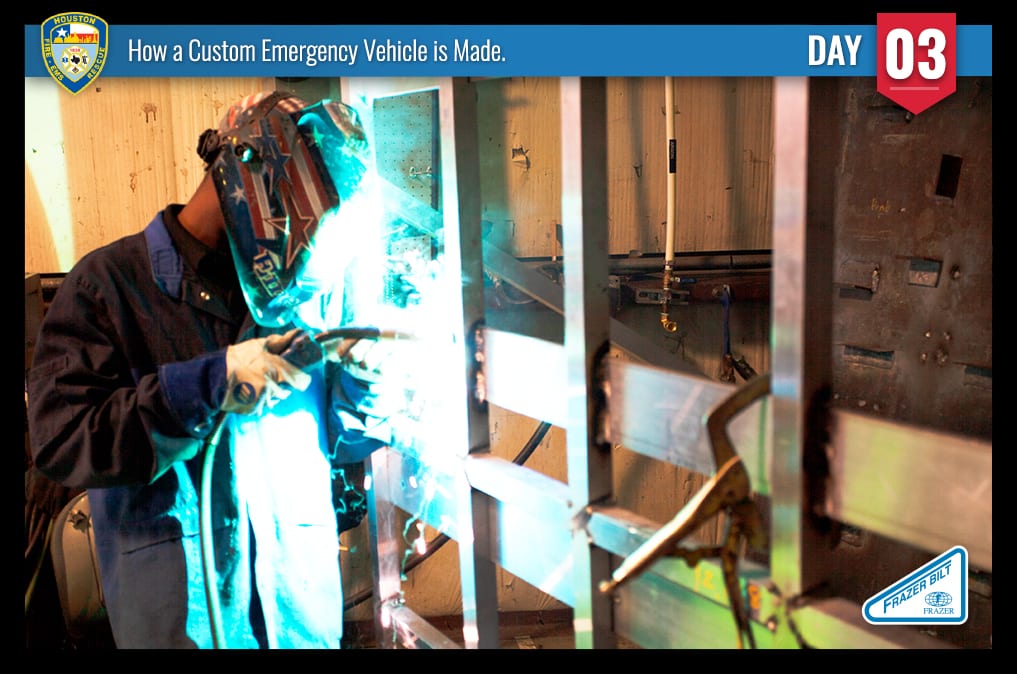 The crew finishes welding the passenger and ceiling walls. Now, all five walls needed to construct the module frame have been completed.
What's next? Each wall moves down the production line to the skinning area.
Day 2: Framing and Welding Continue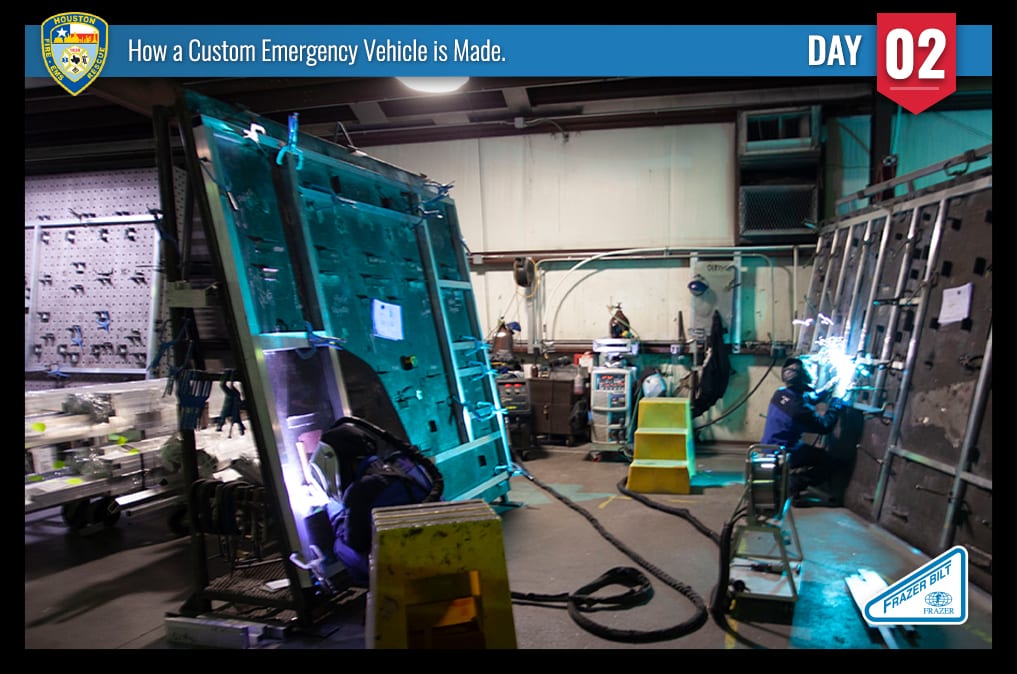 Frazer crew members frame and weld three more sections of the EMS module: a ceiling wall, a rear wall, and a passenger wall.
While framing of the box is underway, simultaneously we are fabricating other aluminum parts including cabinets, doors, compartments, and shelving.
Day 1: Framing and Welding Begin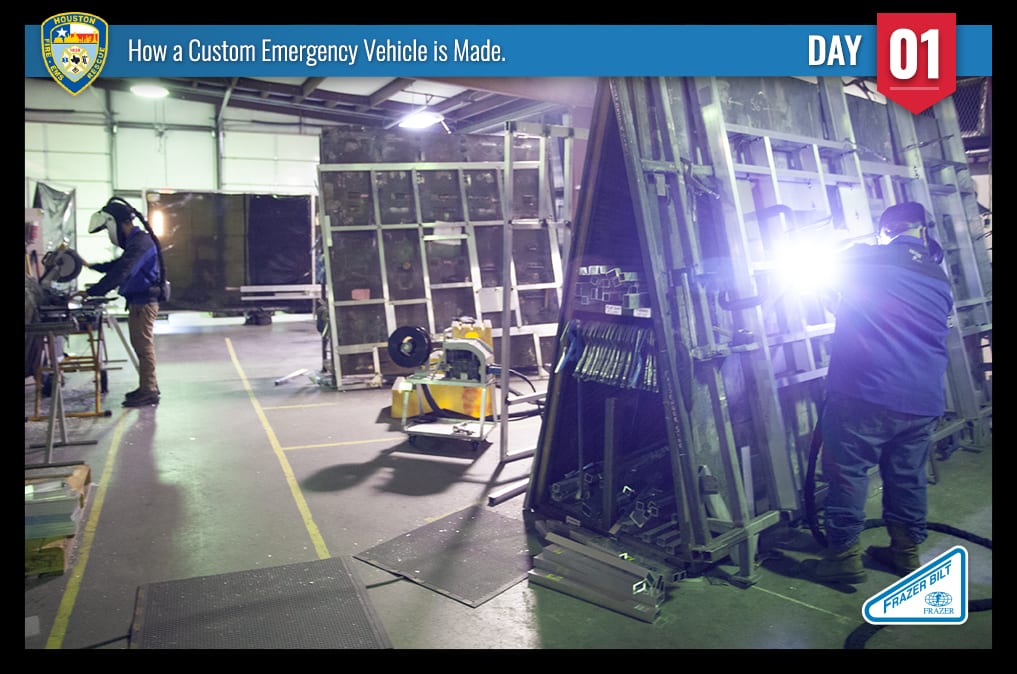 Frazer crew members use a jig (as seen above) to frame the base and front wall of the EMS module. This requires measuring and cutting pieces of aluminum, fitting them into place on the jig, then welding the joints together.
Frazer uses a welded, all aluminum construction that includes square and rectangular section tubing. We use aluminum because of its structural integrity and strength. It is not only good for the environment but has a natural oxide coating that protects it from degradation. Aluminum is also lighter than wood, so it provides more payload (sometimes 600 – 800 pounds).
Ready for a Frazer?
GET YOUR ORDER STARTED!
CONTACT US today! Fill out this short form or call 888-FRAZER1 or 888-372-9371.
Frazer has been building custom EMS vehicles suitable for licensing and use as Mobile Stroke Units, Mobile Clinics, and Ambulances since 1985.