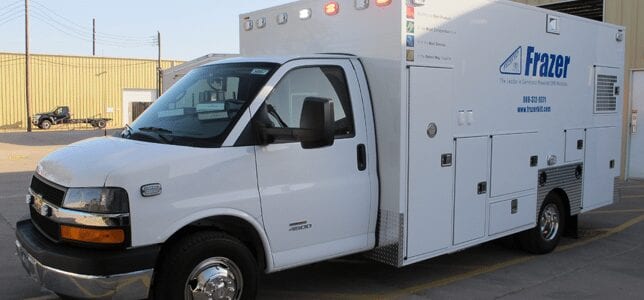 We have a 14 ft. (168 in.), Type III AD Frazer available. Mounted on a Chevrolet, 6.6L Duramax diesel, G4500 chassis (14,500 lb GVWR), this Frazer has the following features:
Whelen® M6 series LED emergency lights
LED interior lighting
Captain's chair with a built-in child safety seat
Netting at the head of the squad bench
Three oxygen outlets (one in the ceiling)
Dual overhead grab rails
64 supply bins in the interior cabinets
A backup camera
Digital clock on the rear wall
Stainless steel countertops
CPR seat
3M diamond grade chevrons on the rear
5.5 kw, catalytic converted, Onan generator
120V, 15,000 BTU air conditioner / 2.5 kw electric heater
30 Amp battery charger through dual 20 Amp shore power connectors
Seamless cushions attached with powerful magnets
Painted white (Your striping and lettering available)
Approximately 5,000 highway miles
Four pre-pulled coax
Cabinet above squad bench
Padding on all cabinet corners
Give us a call at 888-372-9371 and ask for Sales.